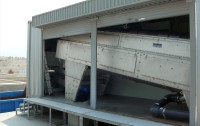 Project: Secondary Sludge Dewatering System , Al Fileyah Wastewater Treatment Plant
Al Fileyah WWTP is a 40,000 CMD wastewater treatment plant owned by Ras Al Kaimah Wastewater Agency (RAKWA), which is one of four agencies that form the Public Service Department of the Government of Ras Al Khaimah. The Main Plant consists of two lines for the sludge production. One being activate sludge (Primary and Secondary) and the other digested sludge. For the activated sludge line, RAKWA required a permanent dewatering solution with minimum civil work due to limited space.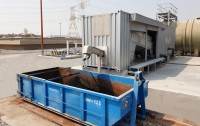 MENA-Water Solution
Considering the project requirements, MENA-Water proposed a permanent containerized plug and play packaged plant using HUBER's Q-Press 800.2 system. This technology provided the best performance with the lowest operational costs and solved the space limitation problem. To meet the guaranteed parameters, MENA-Water also designed a balancing tank within the plant to ensure a consistent sludge feed into HUBER Q-Press 800.2 system and enhance the performance output.
Sludge Characteristics
Current Sludge Capacity: 400 m³/day
% Future Total Sludge Production: 700 m³/day
Sludge Characteristics: 0.56% – 1.2%
Sludge Cake Dryness: > 20%
Solids Capture Rate: >95%
The containerized sludge dewatering plant was specially built in a 40ft ISO sized container and operates with a capacity of 30 m³/h as per the project requirements. This HUBER Q-Press 800.2 system is the first of its kind in Middle East region installed as a containerized package plant version.
As scheduled, MENA-Water successfully completed the design, engineering, supply, installation, testing, commissioning and handed over the plant to the Client producing the desired output.